Teeth whitening: cosmetic dentistry's most popular procedure
Cosmetic dentistry is an umbrella term that covers a wide range of treatments both large and small. Here at Vogue Dental Care in Luton, our skilled cosmetic dental team like nothing more than seeing a patient transformed with a smile makeover. Whatever treatment you require, you will be treated with care, respect, and dignity at all times.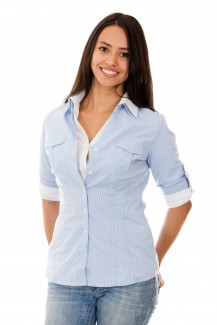 Here we explore what is probably the most frequently requested procedure in cosmetic dentistry: teeth whitening treatment.
How it works
Teeth whitening, when provided by a dentist, is a safe, effective and predictable method of removing everyday stains from your teeth. Our teeth get easily stained by foods and drinks, by smoking and by some medications. Teeth whitening treatment is designed to get rid of these stains and leave your teeth several shades brighter. One of the whitening systems used at our Luton dental practice even enables you to choose exactly what shade of brightness you want
We have three options for patients interested in whitening treatment here at our Luton clinic. Your dentist will invite you in for a cosmetic dentistry consultation and check that whitening treatment is suitable for you, before running through the options.
Home whitening
Home whitening uses bespoke teeth-whitening trays and dental bleaching gel to remove stains from your teeth while you sleep. You simply place a small amount of gel in the trays and wear them overnight for approximately two weeks.
Zoom power whitening
Zoom power whitening is performed by your dentist here in our Luton practice, and requires just a single, hour-long session. You just need to sit back and relax while the gel gets to work, with a special light used to activate it.
Enlighten combination whitening
Enlighten combines home whitening with a final session here in our Luton practice. This system also gives you the opportunity to pick the shade of whiteness you want to achieve, so that the results will be just as you expected.