Combine cosmetic dentistry treatments to get the smile of your dreams
Many treatments fall under the heading of cosmetic dentistry. At Luton dental practice Vogue Dental Care, our skilled clinicians offer a wide selection of cosmetic treatments to suit all needs and all budgets. While some people will find one treatment is sufficient to suit their needs, others will find that a combination of two or more treatment options will help them to achieve the beautiful smile they have always dreamt of.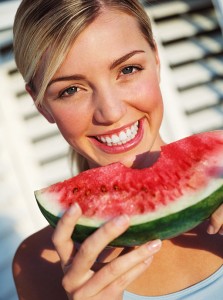 Here, we look at some popular cosmetic dentistry combinations. For a full list of treatment options, call into our Luton dental practice and talk to a member of our friendly team.
Orthodontics + teeth whitening
Orthodontics is the branch of dentistry that deals with straightening and realigning teeth. Many adults are unhappy with the alignment of their teeth, having missed out on orthodontic treatment as a youngster or having had treatment only to find their teeth have moved back to their old position.
At Vogue Dental Care in Luton we offer a number of discreet orthodontic options, including Six Month Smiles and the Inman Aligner, for adults who want to straighten their teeth. Your dentist will recommend the best options to suit your individual needs at your cosmetic dentistry consultation.
After orthodontic treatment is complete, many patients like to give their smile an extra boost with teeth whitening – either here at the practice with one of our dentists, or at home using custom-made whitening trays.
Crowns + white fillings
If you have a lot of metal fillings you may be self-conscious about your smile. At our Luton dental practice our clinicians can replace your metal fillings with white composite fillings.
Worn teeth or teeth that have been weakened by very large fillings or root canal treatment will benefit from treatment with crowns. A crown is a tooth-coloured cap attached to the top of your teeth for added strength and improved appearance.