Take as much care of your face as you do of your teeth
So, you have invested a lot of time and money in making sure your teeth and gums are healthy and in perfect condition for a great smile. But what about your face? Is it providing the perfect frame for that perfect smile? Or are the years catching up with you and giving your face problems like wrinkles, folds and hollows?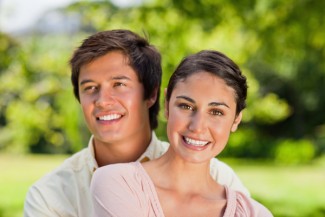 If you live in Luton, dermal fillers may be the perfect solution. At Vogue Dental Care, we offer a procedure that is quick, often just 30 minutes, with many people experiencing no pain at all and minimum side effects.
Dermal fillers in Luton offer an affordable and highly effective way to address the effects of aging. Minimal, non-surgical injections can minimise those dreaded naso-labial folds (which run from your nose to your mouth), and add youthful volume to lips, cheeks, chins and even your décolletage.
There are several different systems of dermal fillers. In Luton, we use Restylane to smooth away wrinkles, enhances facial contours, create fuller lips and revitalise skin. Restylane is a natural hyaluronic acid gel which is injected into, or just under, the skin to replenish the hyaluronic acid that your body naturally produces less of as it ages. The results are instant and can often last up to 12 months. In Luton, dermal fillers are an ideal treatment for those who want to look younger naturally.
Restylane is well tried and tested and very popular worldwide. There are several products in the Restylane line of dermal fillers in Luton. Restylane and Restylane Lyft are used to smooth away wrinkles and fine lines. Restylane Silk is used to create fuller and more accentuated lips. Restylane Lyft is used to add lift and volume to the cheeks. All Restylane products work to enhance facial features and give long-lasting, yet non-permanent results.
And who better to help you create a younger looking face than a dentist who has already been highly trained in the anatomy of the skin, muslces, tendons and nerves of the face?
For more information about Restylane dermal fillers in Luton and to see how we can help you, book your Initial Consultation today on 01582 432181 or email us at Vogue Dental Care at enquiries@voguedentalcare.com.